There have been incredible developments in the world of dentistry over the last few decades. Dentists today are able to offer their patients a high level of service and treatment. The amount of information and knowledge dentists have today is mind-boggling. 100 years ago they didn't know about gum grafts, veneers or implants, and if you had a tooth that was causing you pain they would usually just yank it out. Thankfully we no longer have to worry about that, as dentists today offer a wide variety of dental services.
In the beginning
The idea of cosmetic dentistry is not new; it has been practiced by humans for centuries. Ancient civilizations used to replace lost teeth with objects that resembled teeth, and would carve dentures out of bone- a rather bizarre but effective method. Humans even used to rely on barbers to whiten their teeth, a practice which has luckily come to an abrupt stop. For centuries now, people have wanted perfect teeth, and have gone to extreme measures for the perfect smile. Fortunately, today's cosmetic dentistry is a little more advanced than sticking pieces of wood into our gums.
Great advances
Technology is constantly evolving. Every day the world becomes more technologically advanced, and the field of cosmetic dentistry is no exception. Your dentist now has the technology to create the exact smile you desire, and can basically design your smile from scratch. Cosmetic dental surgery can help you with stained teeth, receding gums, chipped teeth, gaps, missing teeth and everything in between. A trip to the dentist used to be a nightmare, but not anymore. Dental professionals work hard to ensure that their patients are as comfortable and pain-free as possible, and getting the perfect smile has never been easier. With today's advanced technology one can easily obtain the glowing grin they've always wanted.
The many benefits
We all have imperfections; it's just part of being human. But we don't have to live with those imperfections, at least not when it comes to our teeth. Cosmetic dentistry can significantly improve your appearance, confidence and overall happiness. When you look good, you feel good, and no one should ever have to hold back their smile because they're afraid of what someone else might think. If you're tired of feeling self-conscious because of your smile, take action! Make an appointment today and get the smile you've always wanted.
Consult with a dentist
If you're hesitant to have cosmetic dental treatment, consult with a dentist. They'll explain any cosmetic dentistry procedure to you in full detail, and can help you figure out which treatments are right for you.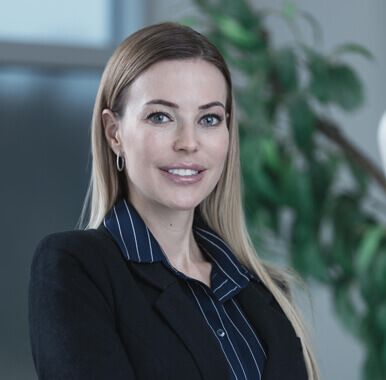 A member of the Ordre des dentistes du Québec and owner of the dental clinic Clinique de l'Avenir, Dr. Gallant obtained her doctorate in dentistry at the Université de Montréal in 2010. Since the beginning of her multidisciplinary practice, she has expressed an interest marked for surgery and cosmetic dentistry. Always in the interest of perfecting her art, she took part in several continuing education courses in order to provide the most sophisticated dental care to her patients. Her personalized, gentle approach inspire confidence in those who typically fear dental work. For her, a radiant smile of health is a pledge of confidence and success.