A team of professionals specialized in dental surgery
Dental surgeries include several different procedures including
Gum transplants
Simple, complex, or wisdom teeth extractions
Whether it is for one of these procedures or any other dental surgery, we will take care of you and provide outstanding service! Anxious and fearful patients are welcome—you will be in good hands!
Dental Extractions
A dental extraction means that a tooth is completely removed from the jaw. Wisdom teeth are the most frequently extracted, as they may present complications if the patient's jaw is not large enough to accommodate additional teeth. Other times, wisdom teeth are crooked or misplaced and will have difficulty getting out.
It is also possible to extract a tooth other than the wisdom teeth if:
The tooth nerve is dead and cannot be preserved using root canal treatment
The tooth is severely decayed
The tooth is infected
The patient's jaw is not large enough to comfortably accommodate the teeth
If you would like more information about extractions or dental surgeries, please contact our dental clinic in Laval today.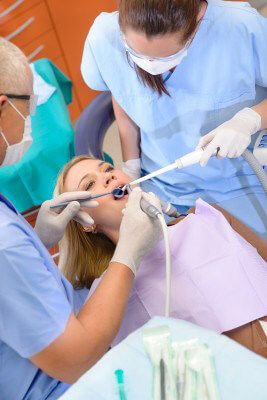 Did you know?The aesthetic results with AlloDerm are equivalent or even superior to those obtained via the autogenous graft
Gum Grafts
Gum grafts restore functionality, thickness, and height to the weakened gingiva. It allows periodontists to correct the deformations by covering the root of the exposed tooth. It also helps prevent future dislocations.
AlloDerm Grafts
AlloDerm allows patients without a healthy tissue on the palate to benefit from a gingival transplant. Adding tissue to the gums opens up a world of possibility. The lack of graft sampling minimizes the risk of postoperative pain.
The benefits of transplantation with AlloDerm are:
Reducing bone loss
Reduced sensitivity
Lower risk of cavity formation
For more information on the AlloDerm gum graft technique or to schedule a consultation, please do not hesitate to contact us.